About the Facility
Site History
Mining began at what is now the Eliot site in 1906. Our history closely overlaps with Alameda County: as the Bay Area has grown, Eliot has supplied the raw materials necessary to build many of the iconic Bay Area buildings that you are familiar with today.
CEMEX aggregates are Eliot's chief product and continue to fuel California and Bay Area construction. The Bay Bridge, the new Transbay Terminal, BART extension, and many important Silicon Valley projects feature CEMEX materials.
What are Aggregates?
Aggregates are a combination of sand, gravel, clay, or crushed stone. They are a key component of ready-mix concrete, hot mix asphalt, and mortar, which help build things we use and rely on every single day, including schools, bridges, sidewalks, highways, office buildings, and homes.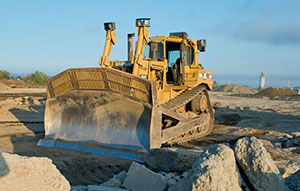 CEMEX Products and Their Uses in the Economy
Aggregates are the main product of the Eliot Mine. Concrete is typically 65%-75% aggregates.
Cement, along with aggregates, is one of the main ingredients in CEMEX concrete. The aggregates we produce at Eliot serve the key function of strengthening our concrete.
Concrete is the byproduct of cement, aggregates, water and other mixtures. Aggregates add crucial strength and uniformity to our concrete to ensure your schools, roads, bridges, and homes are built as safe as possible.
Reinforced concrete pipes are growing in importance every day of California's drought.  CEMEX has long set the standard for these pipes that link crucial sources of drinking water to the people of California.
Environmental Awards and Initiatives
CEMEX is an industry leader on environmental and sustainability issues. We are striving to develop new materials for our customers that reduce the environmental impact of construction and development.
As a result of our innovation and commitment to new technology, CEMEX has been an Energy Star Partner with the U.S. Environmental Protection Agency since 2004, and won Partner of the Year awards in 2009 and 2010.
Our commitment to environmentally friendly work can be seen in our deeds, not just our products. Examples include development of a new urban tree farm in Louisville, KY, and our Fairborn, OH, plant that recently established a new 47-acre grassland and nesting habitat for birds. We look forward to Eliot complementing the success of those projects once reclamation efforts take hold.